Aug. 26, 2021
Vegas Markets Recap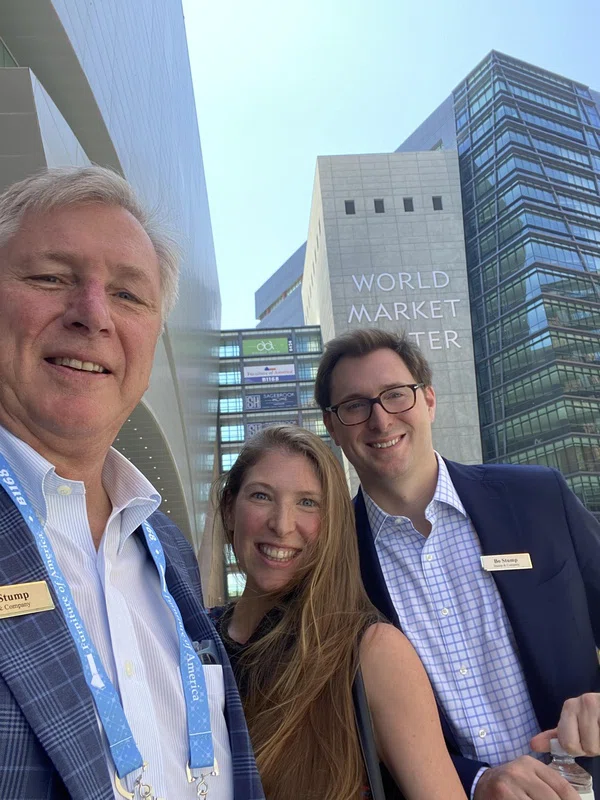 The Stump team traveled to Las Vegas this week to attend the back-to-back residential market and the hospitality show. This two-for-one market special is a first, the result of the adjusted "COVID calendar". But we think there may be advantages that provide some interesting and compelling opportunities for buyers to attend both shows to further blur the channels (read more about Stump's perspective on the "hospi-dential" / "resi-mercial" trend in our past newsletters). We were pleased to see signs at the Residential show marketing the cross over opportunity, and offering free attendance to HD.
Our first stop was the residential show at the World Market Center, followed by the HDVegas hospitality show at Mandalay Bay. We enjoyed seeing many of our clients and friends, and through those conversations several consistent themes emerged:
Supply Chain
Everyone is faced with supply chain challenges – from the rising container rates, starts/stops of COVID interruptions, raw materials availability and prices, labor availability and prices, and domestic freight. Some companies are navigating this period decisively better than others – some are thriving, others are getting hammered. As one long time industry veteran shared, "It's just getting harder to run a business." We heard several CEOs discuss the likelihood of fall out and attrition of companies from the industry because of the combination of high demand and intense supply chain costs/pressures. Management depth, financial strength, and data analytics are keys to success in this difficult time.
E-commerce
Strong growth is continuing in this channel. COVID-19 accelerated this trend. We are starting to see the month-over-month growth flatten, but it is a dramatic step-change in consumer purchasing behavior from pre-pandemic. There is a great deal of M&A attention focused in this sector (our last two transactions being two prime examples). Wayfair, who attended the market with a large team, has signaled huge growth and continues to absorb more market share and is taking more output from more wholesale furnishings providers.
Whole Home
We heard this term both from wholesalers striving to offer broader category options and retailers who want to streamline their vendors and order more products from fewer suppliers. Casegood companies are looking to move into upholstery and vice versa and furniture providers are investigating broadening into home décor: wall art, lighting, rugs, and other accessories. M&A will play a key role here.
Outdoor
American consumers continue to push outdoors, both due to COVID and the more relaxed lifestyle living. This is a high growth category and is being redefined in terms of aesthetics and prominence in the flow of homes. We heard a lot about mixed materials, outdoor rooms, and a cohesive retail experience for indoors and out. M&A is active here. Call us. We have some ideas.
Sourcing Balance/Rebalancing
In the face of the ever-evolving political landscape, exacerbated by COVID lockdowns, frustrations with international supply chains are leading management to seek re-shoring alternatives. Mexico has a wonderful opportunity to gain market share. We spoke with several Mexico facilities that had capacity 6 months ago and are now 100% full with OEM orders. Our recent trip to Tijuana proves the massive opportunity for a shift to North American production. We are also seeing strong interest in North Carolina and Mississippi manufacturing capabilities. Labor continues to be a key element to consider when examining reshoring alternatives.
Hospitality is Back
This sector was badly hurt in the COVID era, with many companies dropping 50% or more in top line revenue. But quoting is up, model rooms are being made and there was great energy and enthusiasm in the scaled down HD show.

Attending these markets, we reaffirmed the great need for face-to-face meetings and building relationships. We are optimistic for our furniture industry and see many years of consumer confidence and growth.
---
2021 will be a record M&A year globally, and at Stump. Our firm has closed three transactions so far this year in the Residential Space, with several other companies in the market now across décor and home furnishings specialties. Attitudes are positive, activity high, and there is a compelling mix of buyers and sellers. It will be a sprint to the end of the year!
Call us and let's discuss how we can help you on your growth journey.