June 13, 2021
June High Point Market Recap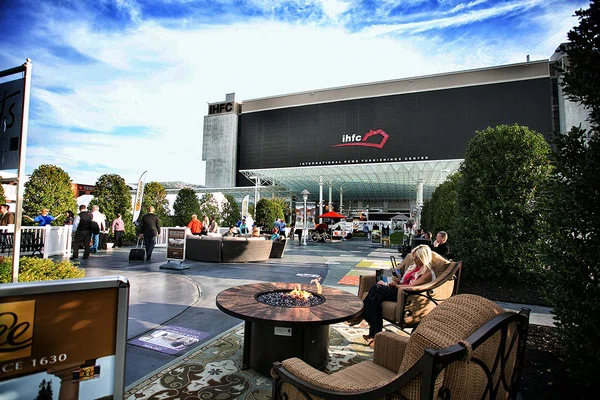 The Spring, rescheduled to Summer, High Point market has now concluded and in our view it was a SUCCESS!
With lots of vacant showrooms, many exhibitors not showing, unprecedented June timing (first week of summer break for young families), a robust premarket, and no international visitors, we were not expecting a strong market. And Thursday-Friday was slow. But then… the crowds showed up and stayed. Until Tuesday! Positive attitudes from buyers, designers and retailers highlight that the home furnishings business is "on a roll" and continuing to capture a larger share of consumers' discretionary spending. A new sofa, a new home office, a new patio set…. all sectors appear to be growing nicely.
The high-end furniture sector has regained momentum in the COVID and Post-COVID period, with decorators enjoying huge new business with remodeling and 2nd (or 3rd) home purchases by more affluent customers. Beach homes, Mountain homes, Resort homes, and all of Florida are enjoying solid business as people flock out of the metropolitan cities for a more relaxed/spacious lifestyle.
Supply chain and raw material issues are a real concern. Top of mind would be domestic foam allocations and high ocean container costs. These are just two examples of a more global supply chain slowdown along with rising raw material prices. However, our clients were upbeat about demand and see no slowdown in sight. Expectations are for solid business for several years. With homes and stock prices at record highs (the 2 pillars of personal wealth), our industry is poised for a strong run for years to come.
Mexico was another frequent topic of discussion, with Asian import issues continuing to complicate life for US companies. We are in deep discussions with many big Mexican manufacturers that would like to align with US companies more closely. These include border town maquiladoras and interior based manufacturers.
M&A is surging too. PE firms are in search of growth and profits, and eager to deploy capital. The existing PE roll-ups are all doing well, and we expect add-on acquisitions to occur. With the recent Herman Miller-Knoll merger, we also anticipate more commercial buyers to enter the residential sector, confirming the thesis that "resi-merial" blending is here for good. Additionally, record stock prices for our public companies have a strong currency for acquisitions, plus our industry has relatively low debt, so bank borrowing is abundant and cheap.
Taxes are going up, if you believe the Biden administration, with proposed capital gains rates of 20% perhaps rising as high as 40%. This is a significant issue that is driving many owners to consider selling their businesses now, before rates go higher.
E-Commerce is a central component to the M&A wave, as growth in B2B and B2C sales is outpacing retail store sales. The Walker Edison transaction, with a huge investment by top tier investor Blackstone, is a bellwether event for our industry. Anytime we see new capital entering a furniture sector, we should all take notice. We certainly are, and expect to see more transactions in this space soon.
Fun Market Fact: one ingenious Canadian client was so determined to come to the High Point Market that he walked across a border bridge, caught an Uber to a US airport an hour away, then flew to Greensboro; then reversed the course to go home. This allowed him to avoid the 14-day Canadian quarantine. Certain proof that our High Point Market is alive and well!
Call us – deals are happening.
UP NEXT AT A GLANCE
Domestic Upholstery Manufacturing
Domestic Providers of Fabric, Frames, and Foam (in high demand as demand continues to grow)
Mexico Manufacturing Capabilities
E-Commerce: B2B and B2C