Feb. 1, 2018
Winter Las Vegas Market - Jan. 2018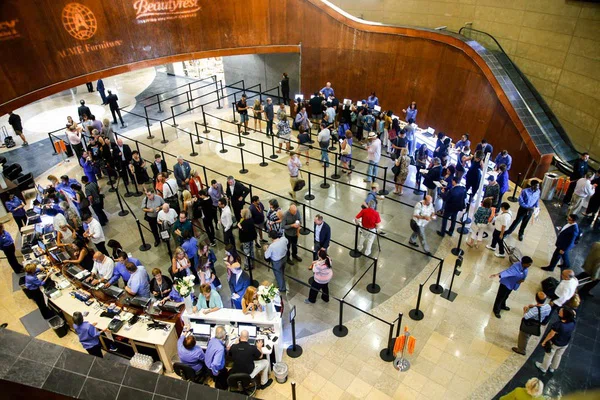 The Las Vegas market was busy and upbeat – the halls felt packed and energetic. There were even rumors that this market set attendance records! This was despite several prominent companies abandoning destination showrooms at the Vegas market, which led to some select empty halls and corridors. Positivity was the dominant sentiment and it felt to many like the energy of the "go-go 1990s" had returned.
Quote of the market #1: "I came with a critical eye on this Las Vegas market, but was pleasantly surprised by the quality of the customers that visited our showroom."
A few things contributed to this, most importantly the strong general economic environment. With the surging stock market, the new tax bill giving consumers a sense of confidence and more discretionary income, CEOs feel all signs point to a great 2018.
There are a few recurring questions that were heard from the 100+ CEOs we spoke with during our time in the halls:
E-Commerce: A Panacea or Pandora's Box? Everyone is strategizing and planning around the changes that e-commerce has made and will continue to make in this industry. Namely, how to grow in legacy retailing while embracing new growth channels? Many companies suggested that e-commerce is the fastest growing segment of their business. For others it is a Pandora's Box of channel conflict and inventory returns. We believe the internet economy is a permanent and growing fixture in the buying and selling of furniture, and that the winners and losers will be determined by the quality of the approach chosen to leverage this technology – ignoring the changing terrain is not a viable option.
The Vegas Market: Here to stay? With the recent announcement of Blackstone's acquisition of the Las Vegas' International Market Center there is a flurry of questions surrounding the future of the market. Will the location remain for its current use, or was it purchased with a different strategic rationale in mind? Does this market's high-octane energy and attendance prove there is a need for a west coast furnishings market?
Labor: Where is our middle management? Labor continues to be tight throughout the country, putting pressure on manufacturers to find and train new high-quality talent. In particular, this deficit is felt in middle management. The flight of manufacturing to Asia during the prior two decades led young adults to disregard the furniture industry as a viable or attractive career path. The result is a dearth of middle management to be groomed for leadership in the coming decades. This is something CEOs across the industry are discussing at length. Leadership academies, continuing education programs, and weekend/evening MBA programs are perhaps solutions to this issue.
The M&A market remains hot. After a strong 2017, Stump & Company feels 2018 is gearing up to be even better for M&A transactions. The team feels the current vibrancy is, in part, due to the strong balance of buyers and sellers. The buyers are a balance of strategic, international, private equity, & family office – giving sellers some compelling choices. And the sellers are from across industry segments and selling with a variety of objectives in mind – from estate planning to growth capital to strategic appliance. We look forward to announcing several new transactions in the weeks ahead.
Quote of the Market 2: "I'm looking at acquisitions if it fits my narrow criteria – I'm only looking for 1+1 = 3 transactions," said one CEO regarding his aspirations for strategic acquisitions in this hot market.
Do you have acquisition criteria to share? Or aspirations to sell or merge your business? Call us and let us help you navigate this exciting and ever-changing industry.