Jan. 30, 2020
Vegas 2020 - Strong Foot Traffic, High Customer Acquisition, and Double-digit Growth.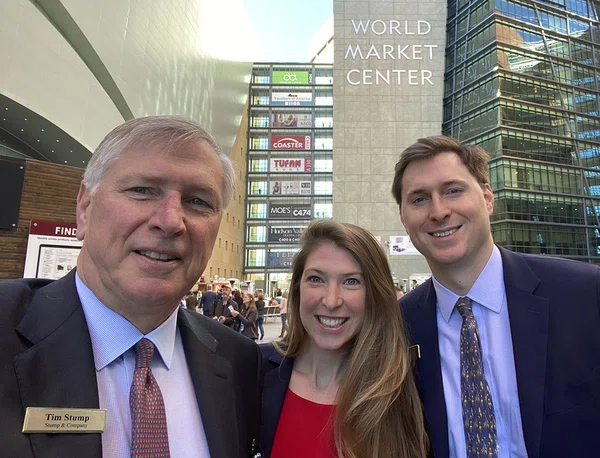 What happens here, only happens here. Or so we heard frequently in this ever-evolving city.
The 2020 Winter Market lived up to the hype. Most hallways were full of buyers and industry players, with exhibitors happily showing updated product lines in busy showrooms. We heard from several long-time clients that this was their best Vegas market yet, with foot traffic strong, customer acquisition high, and double-digit growth in orders from last year. This optimism reflects a broader trend of general economic enthusiasm going into 2020, "the year of the rat". Fears of a recession have dimmed, the tariff wars have cooled, and the furnishings business is prepared for a big year.
The Stump team met privately with 61 CEO's and business owners in the expanding World Market Center, and noted several key trends pervading the industry:
Technology With competition for customer accounts as high as ever, interconnected and integrated technology systems have become a key differentiator amongst winners and losers. One client told us, "I have 3 days to write orders here, which is 15 minutes a customer. I can't spend 5 minutes taking down their information." New technology systems that can quickly gather customer information tied to CRMs, inventory, pricing, and financials are requiring companies invest in their tech infrastructure and leverage data to remain relevant.
Scale Despite features that challenge traditional economies of scale (e.g. many retailers prefer numerous niche suppliers vs. one-stop shopping) we have noted larger volume companies enjoying better margins, stickiness with customers, and greater trajectory of top-line growth. As technology changes our industry, the larger firms are better positioned to invest in systems needed to grow more. We anticipate seeing acquisitions follow this trend, as bigger companies continue to get bigger and smaller companies seek an acquisition to reach scale.
A New 'Factory Man' We've mentioned the shift from China before and continue to see an exodus to mega-factories in Vietnam, Malaysia, and others. Of recent note is the return to North America, with many of our clients investing in facilities in Mexico and the US. This "re-shoring" effort reduces foreign exposure, ensures greater consistency and quality of product, and can shorten lead times to 4-6 weeks.
Force Majeure We hope the coronavirus does not become a trend, but to exclude mention here would dismiss what was top of mind at market. Despite the large shift of production out of China, this virus has already begun to disrupt supply chains. We heard many customers have canceled planned trips to Asia to visit factories, suppliers, and other partners. If not contained, this disruption could threaten the otherwise rosy projections for the year, particularly for those with international supply chains. Our prayers go out to all impacted by this crisis.
Constant change in our industry and economy has spurred M&A activity the past several years, and we anticipate this trend to continue into the new decade. Most notably, many players are acquiring additional - or inaugural - upholstery manufacturing facilities in North America. This allows for more custom orders and finishing with reduced lead times to key accounts.
We were pleased to announce the acquisition of Our House Designs by a private group of investors to start the year and are eager to announce several Q1-Q2 deals in the domestic residential space - and others - as they develop.
The Stump team continues to cherish its client relationships, old and new, and are excited for the new year and decade to come as we assist owners with business valuations, long-term planning, and advisory services. Call us, we are here to help!