June 12, 2021
The Chicago Office Show: NEOCON, June 2019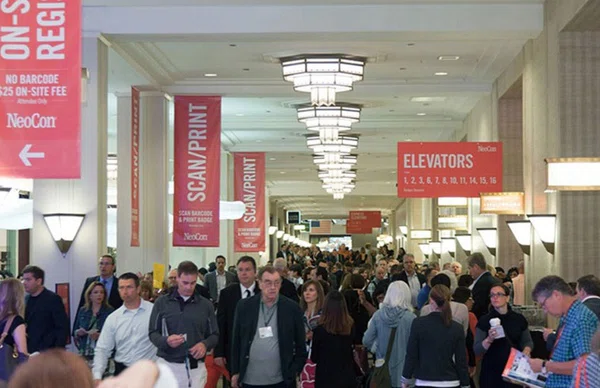 Neocon was upbeat and well attended again this year. Our discussions with clients and prospects during our 48 hours in Chicago confirm that most are doing well in this up-cycle, despite the headwinds of Chinese tariffs and the unavailability of labor. Unanimous sentiment was companies are looking to expand and grow.
Quote of the market #1: "Pivot to growth," was the strategy one acquaintance shared with us.
A few trends of note that we observed as we walked the floors:
Open floor plan products are everywhere and creating the need for new products. Previously deemed hot trend products such as height adjustable tables, white board table-tops, and open floorplan 'non-cubicle' workstations are mainstream. And now that the walls have come down, there is a growing need for products that enable privacy within the new modern floorplans. We saw 'phone booth' concepts (some even with small desks and double booths), chairs with wrap around backs and sound absorbing materials, and even overhead fixtures with sound dampening effects. Innovation within the open floorplan will continue as employees seek privacy and quiet.
Soft seating – We continue to see the blurring of commercial and residential channels, and that is particularly apparent in the soft seating category. Seating groups were everywhere and looked more like a hotel lobby or home. And at the end of the day, what is the difference between a lobby couch in the Ritz Carlton, a C-Suite executive's couch, or a couch in a NYC high end apartment?
Quote of the market #2: "I can't find a single desk in this building!" quipped one industry veteran.
E-Commerce – disruption in the transaction oriented commercial markets. E-Commerce is a growing component of the commercial sector. The companies that primarily service larger corporate clients who require more than just product and need services such as layout and customization are more insulated from this trend. But transactional providers are quickly seeing e-commerce competitors arise. Many of our clients attended the recent Wayfair summit which promoted their growth plans to double in 2-3 years. This will have consequences for everyone in the sector.
The Chicago Merchandise Mart continues to draw compelling Neocon crowds, though we heard rumblings. Several showrooms have relocated outside the Mart: Knoll is gone and there was talk of another key tenant leaving to relocate nearby as Kimball did several years ago, queues were 20 minutes long for the elevators leading to disproportionate traffic on lower v. higher floors, and there's discontent with the building's management. What is the future of Neocon?
Mergers & Acquisitions remain a hot topic and deal flow is wide open, with activity and valuations continuing to ride the robust and growing economy and customer demand. Revenue growth remains top of mind for the market leaders in the office space. We are hearing companies looking to explore into logical adjacencies to the contract furniture world. This is a trend we are closely watching and are intrigued to see what new verticals and sectors are explored.
What is your company worth?  Call us and we will be pleased to walk you through the math, science, and art of a valuation, as well as an understanding of what buyers want. Call us and let's develop a plan for this fast paced and ever-changing industry.