April 12, 2019
Spring High Point Market - April 2019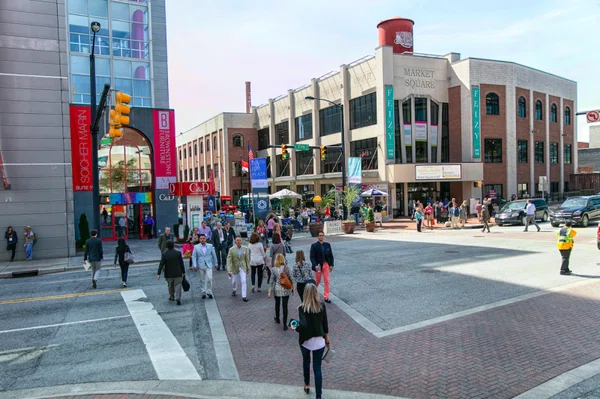 An Industry in Transition:                                                                 April 4 – 9, 2019 – Spring High Point Furniture Market
Our team spent six days at the Spring High Point Furniture Market talking with industry CEOs, a bi-annual highlight. Talk of industry changes, mergers and acquisitions (M&A), real estate movements and new product introductions were in full swing. The general sentiment was that the furniture industry is in transition and management teams need constant vigilance and a willingness to adapt to succeed in this rapidly changing environment.
The most frequent topics we discussed, top of mind for CEOs, were:
Indisputably the #1 topic, E-commerce is the fastest growing segment of the furniture industry at an annual growth rate of at least 15%, compared to the overall industries growth rate of 2-3% over the last 5 years. Whether choosing B2B or B2C, effective participation in this sector is becoming more and more critical to companies' success. We see tremendous opportunity here but also risks:

Selling products (branded or unbranded) through E-comm portals such as Wayfair, Amazon, Houzz, and Perigold is an effective way to quickly boost top line sales, but as e-commerce behemoths gain concentration in companies' businesses and take over their logistics with programs like Castlegate, it makes margin erosion and disintermediation harder to combat.
Selling products directly to customers through a stand-alone branded website can be extremely costly in terms of customer acquisition and marketing; but it may be the path to survival for some.
The future remains unclear, but e-commerce continues to change the game, particularly for the millennial customer. And with many of these platforms continuing to expand their sales with no profitability whatsoever, we feel a change to the status quo is inevitable.
Quote of the market #1: "We make the furniture appear, and they make it disappear," quipped a domestic furniture manufacturing veteran as he discussed the intensification of the relationship between his Company and E-Commerce players. 
Artificial Intelligence (AI): We believe successful companies will deploy significant resources into deep data analytics for both e-comm and brick & mortar businesses. Geo-fencing, AAT (advance audience targeting), AI (artificial intelligence) and algorithm data analysis technology is proving to be instrumental for finding, attracting and retaining customers. The old norm of sales reps waiting for customers to come to them is over. Senior management must lead the effort within their businesses to use technology to drive the top line, control costs, and systemize the internal processes of their businesses. 
Almost every CEO we spoke to noted soft Q1 Retail sales. Low housing starts, weak consumer confidence, E-Commerce sales expansion, and tariff price increases making their way onto store floors are all headwinds for brick and mortar retailers. Indeed, over the past 30 years the total furniture retail store fronts have shrunk by one-third. This decline will accelerate in the coming years as smaller retailers fail to effectively compete with the large lifestyle retailers' dominant marketing and millennial appeal. This erosion and decline is particularly impactful to furniture manufacturers and importers since smaller brick and mortar stores tend to have higher margins than the big box retailers.
Last market's number one topic, the Chinese – American tariffs, remains unresolved and is continuing to create unease as companies wait to see what the rules will be going forward. However, the panic and all-consuming discussion of these tariffs has abated. Companies have digested the 10% tariff on Chinese imports through price increases, vendor concessions, and sourcing adjustments. And there was a general sentiment among CEOs that if a deal of 10% or less can be cut, then there would be a period of market euphoria and boosted consumer confidence. We believe this is likely to be achieved in the next 100 days.
Quote #2 of the Market: "Last market people couldn't see the furniture through the tariff. This year we are back to talking furniture."
Our M&A transaction business, as well as Randy Stump's industrial real estate brokerage business, remains red hot. We recently partnered with Randy and his team on the sale of the 300,000 sf Baker Furniture HQ/Distribution Center in Hickory, NC to Charis Foundry, LLC., which is led by industry veteran Eric Fulcher. Eric has created a new company for manufacturing tasteful lifestyle upholstery. The Stump teams worked with Samson Holding in 2016-17 to acquire Baker and then represented Samson in this real estate sale. A win-win transaction for all, showcasing the breadth of Stump's transactional expertise in the furniture industry.
These are exciting times to be in the furniture business. Give us a call if you would like to discuss valuation or a transaction in this fast paced and ever-changing industry.                                                                                                                
Timothy A. Stump
Stuart Stump Mullens