Nov. 16, 2017
New York Hospitality Show: BDNY - November 2017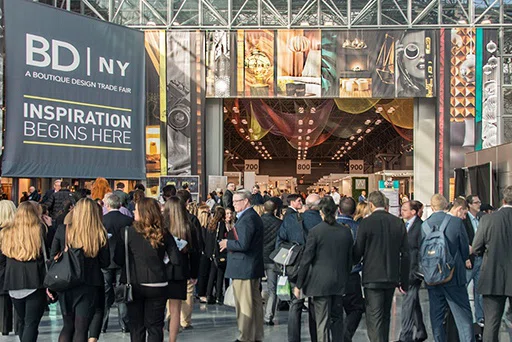 BDNY (Boutique & Design: New York) was packed and energetic, with many companies reporting record traffic. The Javitz Center format continues to be a hit with small booths that enable companies to efficiently display capabilities and conduct meaningful business without an undue amount of overhead. In fact, BDNY has been deemed the fastest growing trade show in our industry.
We spoke with over 50+ industry CEOs during an action packed two days. Overall reports indicate the hospitality industry is thriving and shows no sign of slowing down. Backlog is strong and upoming projects can be projected through 2018. Key topics and trends that emerged during the show included:
Re-shoring & made in North America gaining traction – a domestic story is becoming more popular given hotels are increasingly requesting shorter lead times and greater responsiveness, which is more difficult in an import scenario
'Resi-mercial' / 'Hospi – dential' – there continues to be channel blurring between Hospitality and the Residential sectors of the furnishings industry, as furnishing trends are consistent across the sectors (particularly at the high end)
Broadening Product Lines – Increasingly companies are looking to provide furnishings for the entire room, not just casegoods and upholstery. Companies are investigating how to provide single source turn-key solutions.
Mergers & Acquisitions remain a hot topic, and activity and valuations are paralleling the robust and growing economy and customer demand. This robust M&A activity parallels the general merger market around the globe.  Low interest rates, generous bank lending, and a strong economy are fueling this activity.
Quote of the market #1: "Hotels and their purchasing agents are all looking for one stop shops where they can purchase casegoods and upholstery – they want to simplify FF&E."
Quotes on E-Commerce (conflicting perspectives):
"Suddenly the unaware players in our industry are confronted with an existential threat… Amazon," stated the CEO of a large furniture manufacturer.
"E-Commerce is a game changer in the residential space, but with the complicated layers of purchasing, procurement, and customization hospitality is insulated," countered one hospitality industry veteran.
Book Recommendation: The Four: The Hidden DNA of Amazon, Apple, Facebook, and Google which reveals fascinating insights into four internet corporate behemoths and online commerce.
What is your company worth?  Call us and we will be pleased to walk you through the math and science of valuation, as well as the art of understanding what buyers want and why they may/may not be a candidate for your company. Call us and let's develop a plan.
Photo Contributed