Oct. 25, 2019
High Point October 2019 Update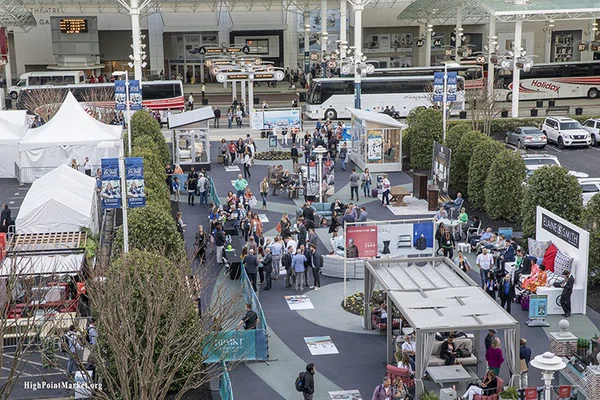 The High Point Market is the Super Bowl for the residential furniture industry. Historically, over 75,000+ people come to town twice a year to visit the 2,200 exhibitors that display their goods in over 12 million square feet of showroom space spread out over 150 buildings. Attendance varies, and we feel you can't keep score anymore by the number of bodies in town. Today, as High Point re-emerges as the dominant global furnishings market, the key to winning is finding, attracting and retaining customers that can make decisions and generate growth.
During our six days in High Point, we found many strong companies that are doing just that! Key topics this week were:
Tariffs: The disruption and uncertainty of this political football is monumental and forcing many of our import companies to shift sourcing and supply chains. And this is hard work that is proving to be harder than anticipated. While most companies are trying to shift to Vietnam, labor constraints and rising costs are a problem there, forcing some to look deeper into Asia's other emerging markets. And Vietnam is being invaded by other industries exiting China (i.e., footwear, steel, etc..) which is creating competition for our furniture industry.
The fork in the road: This next season (12-36 months) will be a story of the haves and have nots, where many companies will thrive and perform at a high level, and many will fade away. Liquidations will become commonplace. We met several fantastic companies this market growing at 25%+ per year and generating exceptional profits. Its always fun to think about the many wonderful companies in the market and the enthusiasm they have for facing an uncertain future. Growth and profits are achievable despite the geo-political and economic turmoil. A strong balance sheet helps, too, and will be important in the next economic phase;
Big Data & Technology: We heard more this market about the generation and use of big data to drive decision making and help lead to growth sectors than in years past. E-commerce is driving much of this. We also heard a great deal about the AI applications, CGI, and ERP systems from forward thinking companies who investing in smoothing operations and efficiency. Unfortunately, we are also witnessing some very visible ERP implementation disasters – someone needs to create a better, cheaper and easier to use furniture ERP system!
Showroom Shuffle – The showroom dance continues as North Hamilton becomes the 5th Avenue of High Point and exhibitors keep moving in search of the best spots. IMC announced a major renovation to the IHFC building and new showrooms keep being built or remodeled to create a more dynamic core. Investment in High Point is strong, and that's good for all of us in the industry;
Upholstery Reshoring – Due to the tariffs plus a desire for more custom goods and quicker deliveries, we expect to see more M&A activity and new construction for North American upholstery. Several new factories have been announced in Canada and Mexico, and we recently announced the sale of Southern Furniture of Conover to Universal/Samson.
Governance – we were pleased to see sanity return to the Silicon Valley unicorn IPO market and in the underwriting/due diligence of stocks. Our nearly 50 years as M&A advisors has proven to us that financial transparency, sound board of director governance and a focus on quality of earnings will deliver long-term shareholder value creation.
Our M&A transaction business hot with several 4th quarter deals to be closed and announced, with a strong backlog going into 2020. This activity is across the board with casegoods and upholstery, domestic and international, residential and other sectors, such as commercial, education, casual and hospitality. PE firms are still aggressive, and the banks are still lending.
We look forward to seeing many of our friends and clients at the AHFA annual event in South Beach next week, and the BDNY hospitality show in New York in early November. Give us a call if you would like to discuss valuation or a transaction this fast paced and ever-changing industry.
Quote of the Market: No quote this year! Instead we are pleased to bring you The Stump Market Minute: Unscripted Videos with Stump – taking you to the center of the action for insights, interviews, and perspectives from across the Furniture Industry. Check it out on our Stump YouTube channel (didn't quite get them down to 60 seconds this time, but we will do better next time!).  Market Minute - Click here!
Don't miss the interview and Tim Stump and Stuart Stump Mullens. Click Here.